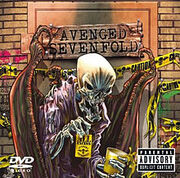 All Excess is Avenged Sevenfold's first DVD, which they released on July 17, 2007. The DVD includes a documentary with footage dating back to 1999, four live performances, along with four music videos, and several outtakes. The DVD was created to portray how Avenged Sevenfold started in a unique way different from typical mainstream band DVDs. This was done by giving the viewer a look into the thoughts of, the relationships between, and the background of, the band. The DVD is region-free, and sold over 11,000 copies in its first week of release.  
All Excess Documentary Chapters
Edit
"Intro"
"Huntington Beach"
"How the Band Met"
"Naming the Band"
"Friends & Family"
"Individual Names"
"The Deathbat"
"40's In The Park"
"Chain Reaction"
"Getting Signed"
"Early Touring"
"Album Recording"
"Warped Tour"
"Our Fans"
"Ozzfest"
"Day off with A7X"
"Playing with Metallica"
"Closing"
Live Performances
Edit
There are four live performance videos that were recorded during Avenged Sevenfold's 2006 tour when they played in the Hammerstein Ballroom in New York City. They include:
"Beast and the Harlot"
"Trashed and Scattered"
"Syn's Guitar Solo"
"Bat Country"
Music Videos
Edit
There are four music videos and all the videos include commentary by the members of Avenged Sevenfold. The music videos featured on the DVD are:
"Unholy Confessions"
"Bat Country"
(Also includes commentary by the video director Marc Klasfeld.)
"Beast and the Harlot"
(Also includes commentary by the video director Tony Petrossian.)
"Seize the Day"
(Also includes commentary by the video director, Wayne Isham, as well as a "making of" video.)
Outtakes/Special Features
Edit
Outtakes and Special Features include:
"Tattoo Tour"
"Practice Garage"
"Beer Break"
"M. Shadows Sings w/ Korn "
"Grapes In The Mouth"
"Symphony In The Studio"
"Hotel Drunks"
"A7X Covers 'Walk by Pantera' (audio only)"
"Crazy Rev"
"Dog On Drugs"
"Drunks"
"Making of Seize the Day"
"Painting Tour"
"M. Shadows Deleted Nude Scene"
Avenged Sevenfold
M. Shadows - lead vocals
Zacky Vengeance - rhythm guitar
The Rev - drums
Synyster Gates - lead guitar
Johnny Christ - bass guitar
Additional Production
Directed by: Rafa Alcantara
Produced by: Adam Cook & Core Entertainment, Inc.
Executive Producer: Devin Sarno for Warner Bros. Records
Community content is available under
CC-BY-SA
unless otherwise noted.