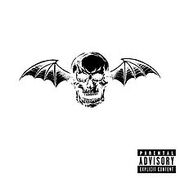 Avenged Sevenfold is Avenged Sevenfold's fourth and self-titled studio album. It was released by Warner Bros. Records on October 30, 2007. This is the last album before the unfortunate and untimely death of the band's drummer, The Rev. Webisodes and other short videos were released on the band's YouTube page to promote this album. Some videos were fake (teaser) videos, and others were real behind the scenes footage. This album was the most leaked album of Avenged Sevenfold's. Upon release, it received mixed reviews due to the considerable change in tone compared to their last few albums. The album placed fourth on the Billboard 200.
Normal Tracks
Edit
Bonus Tracks
Edit
Almost Easy (Jam-along version/iTunes Bonus Track)
Bat Country (Live at Hammerstein Ballroom/iTunes pre-order Bonus Track)
Crossroads (B-side/MVI Exclusive)
Japanese Bonus Track
Edit
Almost Easy (Live from Warped Tour 2007)
Themes & Meaning
Edit
Community content is available under
CC-BY-SA
unless otherwise noted.