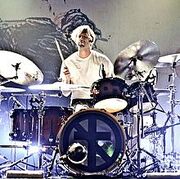 Brooks Wackerman is the fourth and current drummer for Avenged Sevenfold. He joined in 2015, replacing Arin Ilejay, and becoming the fourth drummer for the band. He was the former drummer of Bad Religion, a pretty well known band that he had played drums in for fourteen years. He also simultaneously drums for the band Mass Mental, which he had played drums in since 1998. He was born on February 15, 1977, and is 42 years old.
Discography
Edit
Avenged Sevenfold
Edit
The Stage (2016)
Bad Religion
Edit
The Process of Belief (2002)
The Empire Strikes First (2004)
New Maps of Hell (2007)
The Dissent of Man (2010)
True North (2013)
Mass Mental
Edit
How to Write Love Songs (1999)
Live in Tokyo (2000)
Infectious Grooves
Edit
Groove Family Cyo (1994)
Mass Borracho (2000)
Suicidal Tendencies
Edit
Freedumb (1999)
Free Your Soul and Save My Mind (2000)
Kidneys (2007)
Hold Your Fire (2012)
Tenacious D
Edit
Jazz (2012)
Tenacous D Live (2015)
Other Appearances
Edit
Bad4Good "Refugee" (1992)
Big Talk "Straight into no Kissin'" (2015)
Tom DeLonge "To the Stars.....Demos, Odds and Ends (2015)
Farmikos "Farmikos" (2014)
Fear and the Nervous System "Fear and the Nervous System" (2011)
Korn "Untitled" (2007)
Avril Lavigne "Under My Skin (2004)
The Vandals "Look What I Almost Stepped In" (2000)
Glenn Tipton "Baptizm of Fire" (1997)
Community content is available under
CC-BY-SA
unless otherwise noted.