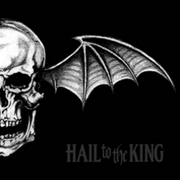 Hail to the King was Avenged Sevenfold's sixth album. This is the band's first album without any contribution from drummer The Rev. Every member of the band, however, has stated that James "The Rev" Sullivan still influences their art to this day. Arin Ilejay had officially replaced Jimmy Sullivan as the new drummer of Avenged Sevenfold in August of 2013. This album was released on August 27, 2013. Hail to the King consists of ten songs, one video, and a bonus track (on the deluxe version only). The album received mixed reviews, similar to their self-titled album, due to being too similar to bands like Metallica and Guns 'n' Roses (however, it should be noted that the members of Avenged Sevenfold specifically stated that this album would be a nod to their influences). Hail to the King was the first and only Avenged Sevenfold album recorded with drummer Arin Ilejay.
Normal Version
Edit
Deluxe Version
Edit
Hail to the King (Music video)
Meaning & Themes​
Edit
Community content is available under
CC-BY-SA
unless otherwise noted.