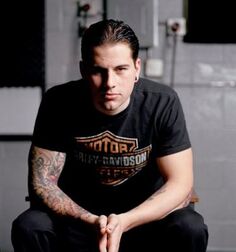 M. Shadows is the lead vocalist for Avenged Sevenfold. His birth name is Matthew Charles Sanders. He is currently married to Valary Sanders (formerly DiBenedetto). Matt was born on July 31, 1981, in Fountain Valley, California. Matt writes a great deal of Avenged Sevenfold's songs, but he receives input from the rest of the guys in his group. Shadows was one of the original band members (along with The Rev and Zacky Vengeance) when they were created in 1999. He had come up the name, Avenged Sevenfold, by looking through the bible. Matt's nickname is "M. Shadows" because he seemed like the more dark and "in the shadows" member. Early in his Avenged Sevenfold career, he created and sang songs with screaming vocals in them, but as time went on, he started adding some more clean portions. Even though it's been over 10 years since the start of Avenged Sevenfold, you can still hear screaming in his more recent songs (i.e. God Hates Us, Not Ready to Die, Paradigm). He usually wears sunglasses when performing at concerts. Matt is known to be a gamer, playing games on his preferred console, Xbox One, and has collaborated with EA and Activision, producing soundtracks for games. The first game A7X made a soundtrack for was Madden, then producing music for Call Of Duty: Black Ops. M. Shadows and Synyster Gates make an easter egg appearance in Call Of Duty: Black Ops 2, along with a song recorded for the game, called "Carry On". For Call Of Duty: Black Ops 3, A7X produced the multiplayer music. He is also a big fan of the Zelda games. M. Shadows also claims to be the best at Mortal Kombat, playing it constantly on arcade machines he has in his house.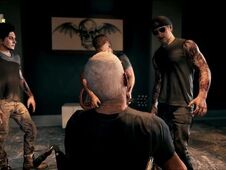 M. Shadows is also known as a golfer, a Los Angeles Lakers fan, and he now has two young sons (named River and Cash).
Stage Name
Edit
Shadows, like the other members of Avenged Sevenfold, uses a stage name. In an interview, Shadows says that he chose "M. Shadows" as his stage name because he thought of himself as "the darker character in the group". The M is in place of his first name, Matthew, which he did not want to be in his stage name because of the way it sounded. He also added that he and the band took stage names because many other successful musicians that they were influenced by had them (e.g. Slash of Guns N' Roses, Munky of Korn and the members of Slipknot).
Discography
Edit
Studio Albums
Edit
Compilation Albums
Edit
Community content is available under
CC-BY-SA
unless otherwise noted.