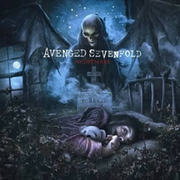 Nightmare is Avenged Sevenfold's fifth studio album. This is the first album put out after the passing of drummer The Rev. Former Dream Theatre drummer Mike Portnoy stepped in to finish the recording on Nightmare. The album was released on July 27, 2010 by Warner Bros. Records. No drumming was recorded by The Rev on the album, however, his vocals were used (it should be noted that The Rev did create many of the songs, he simply did not record any portion). Portnoy continued to drum with Avenged Sevenfold on tours, but as of early 2011, a young drummer by the name of Arin Ilejay stepped in for a possible permanent position. It wasn't until August 10, 2013, during their promotional Hail to the King Tour in Montreal, Canada, when Arin became the official drummer of Avenged Sevenfold (that would last another two years, approximately). Nightmare became a gold album and it included the hit song "Nightmare" which is their second most viewed music video on YouTube (currently at 94 million views, behind So Far Away). Since its release, the album was purchased over 818,000 times.
Normal Tracks
Edit
iTunes Deluxe Version/Japanese Version Bonus Track
Edit
Limited Edition Book of Nightmares Bonus Track
Edit
Nightmare (Demo)
Limited Edition Book of Nightmares Instrumental Digital Download
Edit
Themes & Meaning
Edit
Community content is available under
CC-BY-SA
unless otherwise noted.