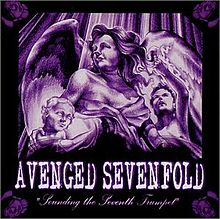 Sounding the Seventh Trumpet
Released
January 31, 2001
Recorded
November 2000
Length
53:12
Label
Goodlife Records
Producer
Donnell Cameron
Sounding the Seventh Trumpet was Avenged Sevenfold's first album. It was released by Goodlife Records on January 31, 2001. At this time, the band members were only in high school. This was also before Johnny Christ and Synyster Gates joined the band. However, there was a re-release of the album with Synyster Gates on it. Also, they were having bassist troubles because their first bassist, Matt Wendt, was just replaced by Justin Sane. After Justin Sane attempted suicide, he was replaced by Dameon Ash. The original album was released by Good Life Recordings, but when Synyster Gates joined, they recorded the album a second time with Hopeless Records and it was released in 2002.
Themes & Meanings
Edit
Community content is available under
CC-BY-SA
unless otherwise noted.