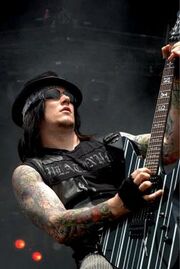 Synyster Gates is the lead guitarist for Avenged Sevenfold. His real name is Brian Elwin Haner Jr. He was born on July 7, 1981 in Huntington Beach, California. Synyster Gates was not in the band when they first started, but he received a call from his friend, The Rev, and joined Avenged Sevenfold in 2001, two years after the formation of the band. Brian received the nickname "Synyster Gates" when he was drunk, driving through a grave yard with The Rev, and he shouted, "My name is Synyster Gates and I am awesome!".
Synyster Gates is known for his unique and talented guitar solos, gritty riffs, and black and white pinstripe guitar. He is married to Michelle Haner (formerly DiBenedetto, and the twin sister of Valary Sanders, who is M. Shadows' wife).
Discography
Edit
Avenged Sevenfold
Edit
Studio Albums
Edit
Compilation Albums
Edit
Pinkley Smooth
Edit
Unfortunate Snort (2002)
Guest Appearances
Edit
Bleeding Through's "Savior, Saint, Salvation," track (with M. Shadows)
Good Charlotte's "The River" track and music video (with M. Shadows)
Burn Halo's "Dirty Little Girl" track and music video
Burn Halo's "Anejo" track
Brian Haner's "Blow-Up Doll" music video
The Jeff Dunham Show intro song (with his father)
AxeWound's "Vultures" from their debut album of the same name
MGK's "Save Me" from the album Lace Up (with M. Shadows)
Community content is available under
CC-BY-SA
unless otherwise noted.