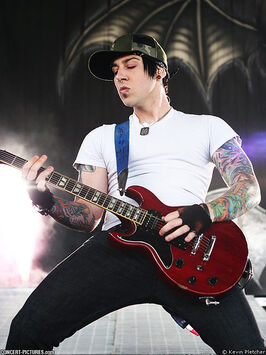 Zachary James Baker or, Zacky Vengeance, is the rhythm guitarist and backing vocalist for Avenged Sevenfold. He was born on December 11, 1981 in Olympia, Washington and later moved to Huntington Beach, California. Zacky was one of the original band members in 1999 and got his nickname from the fact that he had a problem with people back in high school, and he wanted to get back at them by being successful in his band. Zach is well known for his Vengeance University clothing and accessories line, as well as his guitar which features the number "6661", referring to the band's creation date (1999).
Zacky is a left handed guitarist, however he started playing with a right handed guitar when he was younger (playing it upside down). Zach has two young sons named Tennessee James Baker and Ozzy Baker. He and M. Shadows are the only two original members of the band still remaining from when the band was formed back in 1999.
Signature Guitar
[
]
In 2005, Schecter Guitar Research made signature guitars for Synyster Gates and Zacky Vengeance. Zacky's guitar is based on Schecter's S-1 model. The guitar consists of a Tune-o-matic bridge that can be found on a Les Paul guitar. At the bottom of the body of the guitar, four numbers are written out which read "6661" which is simply the year Avenged Sevenfold formed, 1999, upside down and backwards. The inlays are trapezoids and on the 12th fret it says "6661". Zacky Vengeance also has another signature guitar called the Blade. This is also based on the Schecter S-1 and it has Avenged Sevenfold Deathbats over the body of the guitar. Zacky has used many other guitars in his career before he got a signature guitar. In 2017, in their live show at Dublin, Zacky used an unfamiliar signature guitar in the shape of a les paul with his signature "6661" numbers on it.
Discography
[
]
Albums
[
]
Studio Albums
[
]
Compilation Albums
[
]